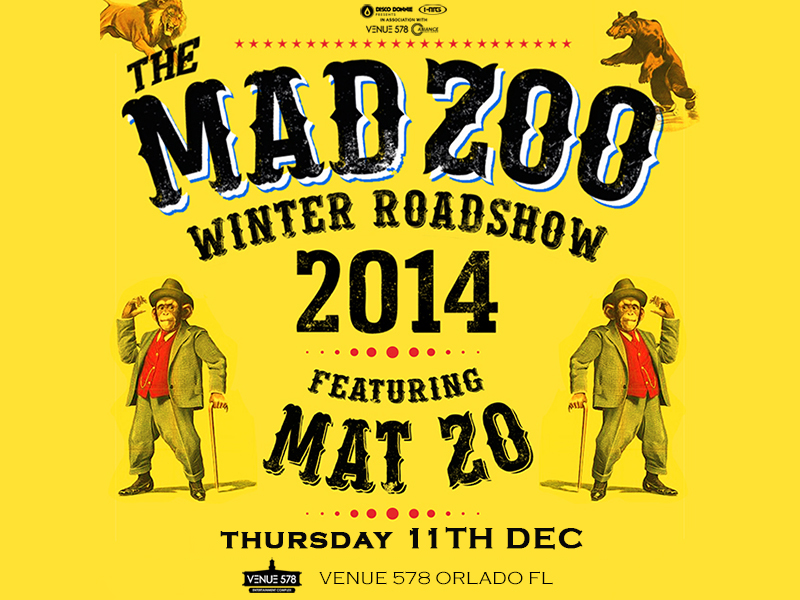 MAD ZOO's Winter Roadshow!!!
        It has been over a year since Matan Zohar, a.k.a Mat Zo had the chance to share his Damage Control album with the rest of the world. His Damage Control tour was a pleasant, symphonic journey to be enjoyed by many. He took fans through some of the tracks they loved most such as "Pyramid Scheme" "Caller ID" and "Lucid Dreams". Zo's Damage Control Tour was certainly a combination of sounds not to be missed. So what could be in store for us this time?
       Over the last year Zo decided that it was time to start releasing new music; music that was true to his soul. He had mentioned in the past that his drum-n-bass productions as MRSA were very meaningful to him and it was time to release something of his own persona once more. Thus the creation of his new label, Mad Zoo, came along. The idea behind Mad Zoo is to have a label that releases nothing but real music, music with meaning and roots to its producer. Zo hopes to incorporate a multitude of different genres but with all of them having that little Mat Zo sound and twinkle we know and love. This new label plans on bringing in a new feel to Mat Zo's production. There have already been some tracks released and the selections of genres is very eclectic. Tracks such as "Ruffneck Bad Boy" with a heavy trap feel, but with the energy of breaks and dubstep, and "Left to Right" combining electro, disco, and breaks all into one.
      I don't think that any of us are prepared for what Matan has in store for us. It is my belief that he will blow our minds with something incredible as he always does. I hope that everyone has the chance to catch him on his Winter Roadshow Tour to experience the new look and sound that is being offered. If you find yourself in Central Florida, remember that one of the tour stops is right here in Orlando on December 11th!!! Hope to see everyone there!!!
-Nick PureDance
Tickets Available for Purchase at:
http://www.eventbrite.com/e/mat-zo-mad-zoo-tour-orlando-tickets-14057118219?aff=htg