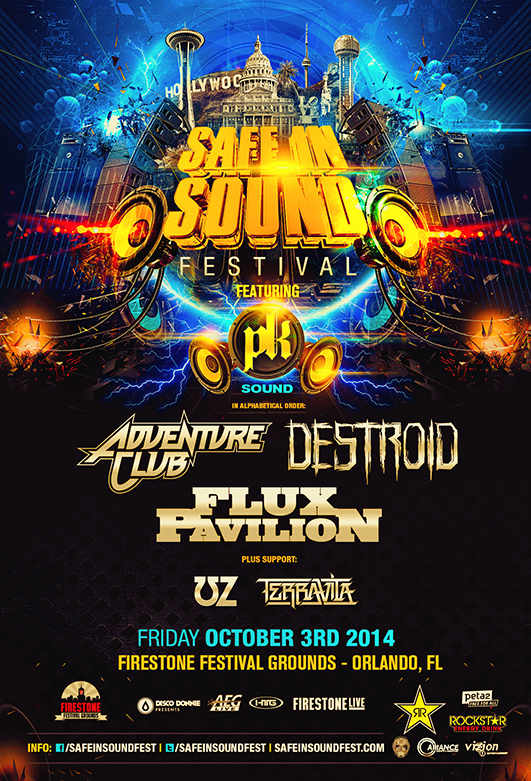 Safe In Sound Festival Tickets NOW ON SALE!!!
Who's ready for BASS, BASS, BASS, and…….more BASS? We can only hope that Orlando is prepared for the sound invasion that is about to take over Central Florida. Incoming "Safe in Sound Festival"! The music family cannot be thankful enough that this event has chosen Orlando to be one of its destinations on October 3rd at the Firestone Festival Grounds. Presenting the sounds and performances of astonishing bass are the returning favorites of dubstep; Canadian duo Adventure Club. Also dubstep's finest Flux Pavillion, trap sensation ƱZ, and Terravita with glitches in the genres of drum n' bass and dubstep.  And for the first time ever in Orlando, music fans will be blown away with a bass filled force unlike any other. Destroid will be crashing in from outside space ready to change the lives of many with their bass and sounds. Made up of famous producers Excision, Downlink, and Pendulum's famous drummer KJ Sawka, Destroid brings in a futuristic alien-tastic live dubstep performance guaranteed to blow your mind away into outer space.  In addition, Safe In Sound Festival also comes with a special treat for its fans; 150K Watts of crisp and clean loud sound that will leave everyone's ears begging for more. So get ready to welcome the month of "All Hollow's Eve" with nothing but bass in your face.
-Nick PureDance
Tickets Available for Purchase at:
http://www.ticketweb.com/t3/sale/SaleEventDetail?dispatch=loadSelectionData&eventId=5304605&pl=fstone&REFID=sisfb
Also if you are new to the bass world and want to familiarize with the artists' sounds, use the links below to check out their Soundclouds!
–https://soundcloud.com/adventureclub
–https://soundcloud.com/flux-pavilion
–https://soundcloud.com/destroid
–https://soundcloud.com/ball-trap-music
–https://soundcloud.com/terravita