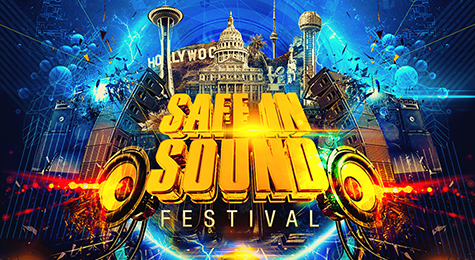 Safe in Sound Orlando Rules
ALL AGES WITH PICTURE ID.
WITHOUT PICTURE ID- MUST HAVE PARENT OR LEGAL GUARDIAN
NO Re-entry/Ins & Outs
NO Refunds or Exchanges
NO Camping
NO Sitting on Designated Dance Floor Areas
NO Moshing, Crowd Surfing or Stage Diving
NO Unauthorized/Unlicensed Vendors Allowed
NO Unauthorized Solicitations, Handbills, Sampling, Give-Aways, etc.
PROHIBITED ITEMS
NO Illegal Substances
NO Drugs or Drug Paraphernalia
NO Camelbaks or Bota Bags
NO Pets
NO Massagers
NO LED Gloves or LED Microlights used for Light Shows
NO Glowsticks, Batons or Orbs
NO Hula Hoops
No Skateboards
No Pets
NO Pacifiers or Dust Masks
NO Glass, Cans, Cups or Coolers
No Bottles, Containers or Packages
NO Markers, Pens or Spray Paint
NO Large Chains or Spiked Jewelry
NO Stickers, Flyers, Banners or Posters
NO Inflatables, Balloons, Balls, Frisbees
NO Tents, Umbrellas, Chairs or Blankets
NO Backpacks over 10″ x 10
NO Laser Pointers
NO Large Purses or Bags (Anything Over 10″ x 10″)
NO Stuffed Animals or Dolls (Including Plush Backpacks)
NO Open Packs of Cigarettes or Unsealed Tampons (Upon Entry)
NO Outside Food or Beverages (Including Alcohol and Candy)
NO Weapons of any Kind (Includes Pocket Knives, Pepper Spray, Fireworks, etc.
NO Professional Recording Equipment – Photo, Video, or Audio
No Detachable Lenses, Tripods, Big Zooms or Commercial Use Rigs
NO Video Cameras, including GoPro
NO totems which contain metal pieces, sharpened elements, or are
capable of being pounded into the ground or hurting others. Totems and
flags without these pieces and deemed safe at entry will be allowed.
ACCEPTABLE ITEMS
OK Small Bags, Single Compartment Backpacks and Purses (maximum 10″ x 10″– MUST GO THROUGH BAG ENTRANCE LINE)
OK Fanny Packs
OK Non-Professional Flash/Still Cameras
OK Ponchos
OK Mobile Phones
OK Sunglasses
OK Hats
OK Sealed Packs of Gum
OK Lighters
OK Closed Packs of Cigarettes
OK Sealed/Wrapped Tampons
OK Sealed/Disposable Single-Use E-Cigarettes
OK Earplugs
OK Sealed Chapstick and Lipgloss
OK Glowing/Illuminated Costumes or Jewelry
OK Flags and Totems that DO NOT contain metal pieces, sharpened
elements, or are capable of being pounded into the ground or hurting
others.​